Safety Products
Safety Tubs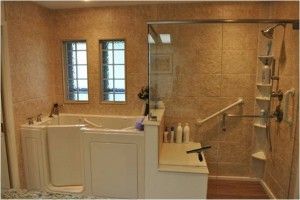 Peace of Mind comes from safe bathing! If safe and easy bathing is a concern for you and your loved ones, Re-Bath has the answer. Enjoy the luxurious soaks and massages of our walk-in Safety Tubs, perfect for arthritis, rheumatism, back pain, poor circulation, and other common aches and pains. You will notice a difference in how you feel after just one warm, deep soak or therapeutic massage. Used regularly, the Safety Tub will literally transform your life. These tubs come in a variety of sizes and styles, so we can find the perfect model to accommodate your needs.
Benefits of a Walk In Tub
Seated Walk In Showers
Never again take the risk of you or your loved one climbing into that old tub again. Let Re-Bath turn that old tub into a giant walk-shower, complete with a low profile threshold or wheelchair accessible front. Why not walk right in and enjoy a warm steamy shower without the worry of struggling to get up or climb out over the railing. ReBath offers a variety of seated shower options including a seated base, custom bench, and wall mounted seats.
Wheel Chair Accessibility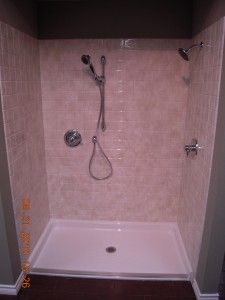 Design your shower with a Barrier Free shower base. Made specifically for easy, seamless transfer from bathroom space to shower. Constructed of durable Lucite® cross-linked cast acrylic with slip-resistant bottom, the front threshold is a mere 1-3/4 high, which is designed to be recessed in the floor, creating a flat transfer surface between bathroom floor and shower floor. A special drain design with stainless steel grate cover efficiently drains water to the center.
Safety Accessories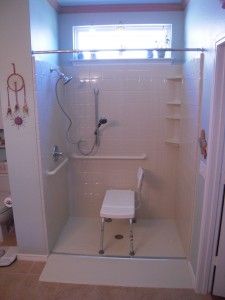 Safety Bars Re-Bath will also install ADA approved safety grab bars in a variety of colors anywhere you like.


Hand Held Shower Heads You will love choosing your favorite massage setting from our hand held adjustable dual shower head faucet design. This shower head is available with an ADA approved hose and flow control on an adjustable slide as seen in many hospital settings. Beautiful and functional, this removable shower head easily reaches you while seated.


Slip Resistant Surface Ask your consultant about our safe slip resistant shower bases


So relax, enjoy, and call Re-Bath in Austin at 512-836-7200 and let one of our expert bathroom design consultants answer your questions today!