Products
Design Your Bathroom
Have you decided it's time to renovate your bathroom? Rebath has created a bathroom design tool to assist you in designing your bathroom at your convenience. Explore all of the style, color and pattern options Re-Bath offers and see how they fit together in a design customized for your needs. To get started, select a look for your bathroom, like Classic or Simply Modern. Then customize your design by choosing between elements like bathtubs or showers and then making style choices for colors, patterns and finishes.

Tub to Shower Conversions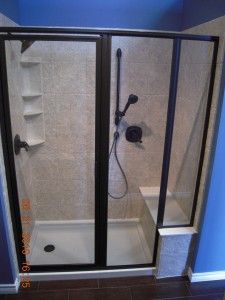 At Re-Bath, bath remodeling is our only business. We are the leading experts in converting old tubs to brand new showers. For some, showers are simply more convenient. For others, as they mature in years, converting that old tub to a safe, convenient and easy to clean shower can greatly extend the length of time they can stay in their own home. Re-Bath will make sure that new shower has a built-in seat, well placed grab bars and easy to clean grout free walls for the confidence of knowing you have the safest and most convenient bath environment possible.
All Re-Bath shower bases and wall surrounds are made from our proprietary and exclusive DuraBath material, which offers the industry's highest ratings on performance and durability. Our factory trained crews can demolish, plumb, install your new shower, and clean your beautiful new bathroom in a matter of 2 to 3 days. And it comes with Re-Baths Lifetime Manufacturers Warranty. Choose from more than a dozen wall colors, shower base colors, and accessories to design your bath to be a statement of your own personal style and taste.
Custom-made Durabath Wall System
The stunning beauty of a Re-Bath Wall Surround System will transform your bathroom from dull to dramatic, plus it can help increase the value of your home. Each Re-Bath Wall Surround System is custom-made to fit your existing bath and shower walls. There is no need for messy, time-consuming and expensive demolition. Better yet, no out-of-date tile walls or difficult to clean grout lines.
Our color and style options plus innovative designs and installation system truly set Re-Bath apart. We have over 20 options to choose from thanks to our wide variety of colors, heights, and styles.
Your peace of mind is important to us. That is why we manufacture our Wall Surround Systems from the finest materials available. You will also experience our commitment to excellence through our Thermal Expansion Joints, which eliminate cracking in wall corners and separation from original walls. Our seamless leg extensions prevent water from rolling off the bathtub and shower shelf and into the framework of your home.
Replacement Bathtubs and Showers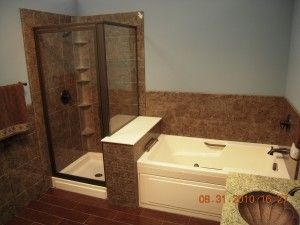 Re-Bath offers a wide range of NEW bathtub and shower base sizes and styles. With our expertise in bathroom design you can either update your existing layout or create something totally new. With your input, Rebath will maximize your space and make your Tub/Shower area luxurious, durable, and easy to clean.
The Onyx Collection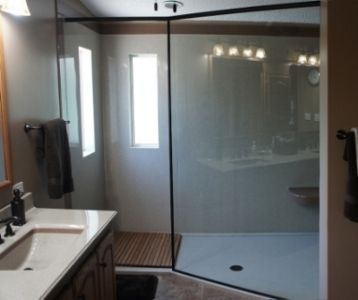 Just like the Rebath Durabath product, the Onyx Collection is specially engineered to be both visually stunning and long-lasting. The Onyx Collection solid-surface material come in more than a hundred colors and patterns, and can be custom-cut and installed for limitless design possibilities. Imagine a breathtaking solid-surface stone in your shower enclosure, shower base, bath countertops and backsplashes, intricate inlays and textures, brilliant color and lighting effects; all possible. The look of stone or granite, without the cost or maintenance, gives your bathroom a tranquil, serene, or dramatic look. We at Rebath of Travis County can make the bathroom of your dreams, a reality. Silestone Quartz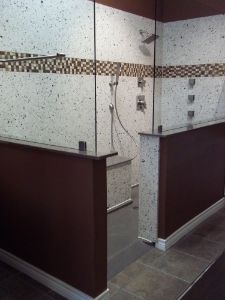 Silestone is a compound made of natural quartz, which makes it extraordinarily hard and resilient. This is the one and only countertop and shower system made of quartz with bacteriostatic protection, giving it hygienic properties that are not to be found anywhere else on the market. It is an excellent surface for bathrooms. Above its strength, and hygienic properties, Silestone Quartz is breathtakingly beautiful and will impress everyone who sees it in your bathroom. Whether we install Silestone in your shower, as a countertop, or both, Silestone is sure to envelop the envy of everyone as well as your own excitement every time you enter your bathroom. Safety Tubs
Peace of Mind comes from safe bathing! If safe and easy bathing is a concern for you and your loved ones, Re-Bath has the answer. Enjoy the luxurious soaks and massages of our walk-in Safety Tubs, perfect for arthritis, rheumatism, back pain, poor circulation, and other common aches and pains. You will notice a difference in how you feel after just one warm, deep soak or therapeutic massage. Used regularly, the Safety Tub will literally transform your life. These tubs come in a variety of sizes and styles, so we can find the perfect model to accommodate your needs.
Sentrel
Sentrel Bath Systems are gaining recognition as a beautiful and long-lasting wet-wall tub and shower wall solution. Sentrel gives the gorgeous look of stone or granite but without the cost or maintenance. Sampled from actual granite, marble and travertine slabs, Sentrel provides a flawless, high-resolution visual reproduction while retaining the longevity and maintenance-free properties demanded by regular bath usage. We offer Sentrel because of its beautiful look, nonporous properties, and forever-lasting material.