Process
Your Bathroom Remodeled in Just a Few Days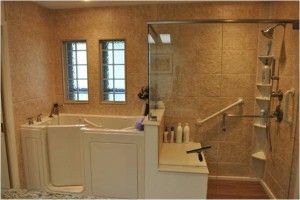 Re-Bath offers a quick and affordable solution to out of date or deteriorated bathtubs, shower pans, or bathroom wall surfaces. Remodel your bathroom in days not weeks!


Using state-of-the-art materials in a variety of styles and colors combined with a patented No Leak installation process our factory trained technicians can transform these fixtures into an attractive, durable and easily maintained foundation of your bathroom decor.


Re-Bath uses its patented Durabath SSP shower bases and tubs to fit perfectly in your existing tub or shower enclosure. Durabath SSP is a specially engineered building product by Spartech, manufactured and sold exclusively through Re-Bath Dealers nationwide. It combines the highest impact strength with sparkling clarity. It is suited for rigidized components in demanding structural applications that require long-lasting endurance. Durabath SSP is far superior to any other competitive products and excels in fabrication performance.
Our Business
Re-Bath of Austin is an authorized dealer for Re-Bath Corp of Mesa, Arizona.
We are a family-owned and locally-operated small business in Austin, TX as well as the Greater Austin area from Sun City to New Braunfels and all surrounding cities. Our clients enjoy the benefits of working with a family-owned and operated company along with the security of a national brand name and the backing of a 34-year old company. We do one thing, and one thing well: Bathrooms.
Customer service is our priority and we take it seriously. Our goal is to make a client's dream bathroom a reality; and make it into a reality fast along with having a personal feel to their experience. Our clients only have to open the door when we are ready to install their dream bathroom. We offer a LIFETIME WARRANTY not only on the product, but on the installation as well. Our clients don't have to worry about something going wrong and not being able to find the contractor who did the work. We are here to stay.
We have journeyman plumbers on every crew. Every crew is backed by a Master Plumber and Project Manager. Every person you speak to at ReBath, including our installers, is our employee. They are specially trained and have the expertise to install everything we offer. We do not subcontract out work to random people who came in as the lowest bidder. We take great pride in our work and customer service, so we must take great pride in our ReBath Team as well.
Our Process
1. Call us at 512-836-7200. A bathroom designer will arrange an appointment to come to your home and review all of the possibilities and options. Your free estimate will give a budget range for the work you wish to have done. There is never any pressure.


2. When you decide to move ahead, together with a consultant, you will make specific product choices for the design of your new bathroom. After you have made your choices, the consultant will give you a firm price.


3. As soon as you are ready, we will place the order for your new bathroom. When your materials arrive (usually 4-6 weeks), your bathroom will be installed in a few days. Some remodels are completed in one day! We never forget that it is your home. For a bathroom remodeling experience that sets a new standard, choose Re-Bath. You'll love the results.